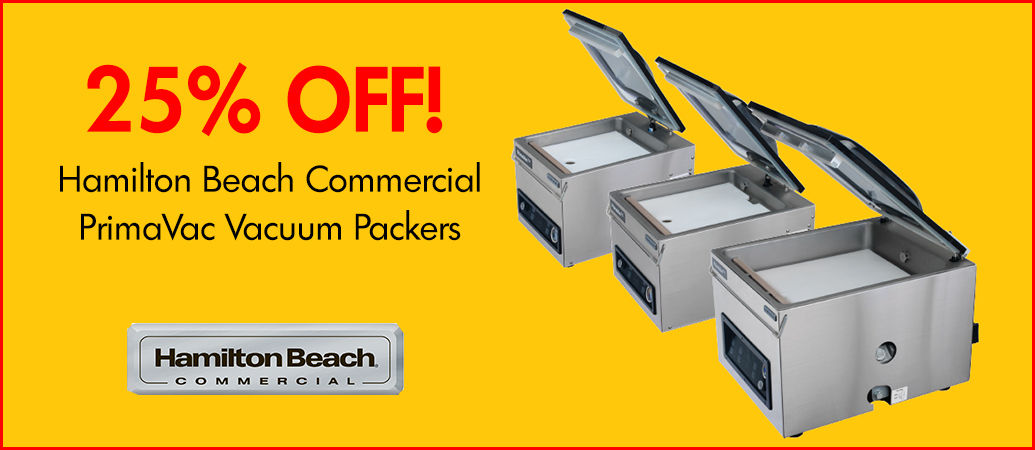 Product News

Megan Nesbitt
2nd September 2019
25% off Hamilton Beach Commercial PrimaVac Vacuum Packers!
Save an additional 25% off your current buying price on HVC254-CE, HVC305-CE and HVC406-CE...
Vacuum packaging gives commercial kitchens the flexibility they need for a wide range of tasks, from retaining food's freshness and color to giving chefs the ability to easily store, preserve, marinate, or sous vide a wide range of dishes.
HVC254-CE
If space is a limitation, and your primary purpose is menu development or small portions, such as for sous vide, the most compact option in the PrimaVac™ line is the PrimaVac™254. It features a 10" / 254mm seal bar and the most compact PrimaVac chamber. The PrimaVac™254 covers an array of applications.
HVC305-CE
The PrimaVac™305 in-chamber vacuum sealer covers an array of applications for professional kitchens and foodservice or catering operations. It features a 305mm / 12" seal bar and can easily handle one gallon pouches or larger. Preserve, store, or create new menu options with in-chamber vacuum sealing from PrimaVac™.
HVC406-CE
The PrimaVac™406 vacuum sealer is ideal for large volumes and is capable of packing two 8" wide pouches at a time. In addition, it can also hold larger containers and jars for additional processing options. The Gas Flush Feature is specifically designed for packaging delicate ingredients, and is available only with the PrimaVac™406. By replacing oxygen with inert gas, Gas Flush helps to preserve the color and texture of certain foods and minimizes the potential of crushing fragile contents by creating a pillow effect.
Promotional prices valid until 31st December 2019.