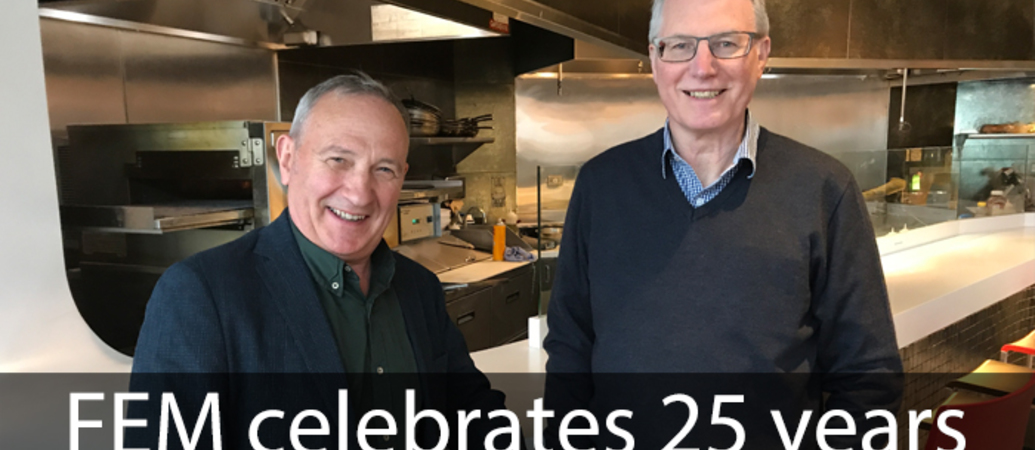 Company News

Stacey Archibald
12th June 2018
A declaration of FEM...and a 25% discount on an iconic
USA
blender
Photograph shows FEM's Sales Director Jim Doherty (left) with Managing Director Harry Hogan (right).
Foodservice Equipment Marketing celebrates landmark anniversary
FEM is 25 years old on July 4 2018. July 4 is also when America celebrates its Independence, of course, which is highly appropriate since FEM's original USP was importing American-manufactured catering equipment, which, up until that point, was unobtainable
in the UK.
A variety of celebrations are planned, including a 25% discount
off the price of one of FEM's most popular and iconic
American-made products, the Hamilton Beach 908 Bar Blender.
"We chose the 908 because it's such a typically American product," says Mark Hogan, FEM's Commercial Director. "Built to last, powerful performance, easy to look after." The 908 is a compact model
that's ideal for blended coffees, cocktails, smoothies and juices. "Blender sales have grown in recent years due to their popularity in
trending sectors such as juice bars, coffee shops and cocktail bars."
Another US-built product that FEM believes will be hot stuff in 2018 and beyond is the Vector oven from Alto-Shaam. "The Vector is in a class of its own," says Hogan. "Four ovens in one unit, super-fast, programmable and very simple. It's generating enormous interest."
Meanwhile FEM has started working with a new American brand, called Frontline, which has developed a Smart Oil Management system that eliminates the need for staff to handle oil, allowing operators to fill and empty fryers at the push of a button.
"Frontline represents the way the industry is going," says Hogan. "It uses technology to deliver automation, data management and remote connectivity, giving efficiencies and cost savings all down the line."
FEM's own future plans include expansion of the customer support team and the launch of a new website.
"25 years ago we brought a raft of new products to the UK market," says Hogan. "And today we continue to work with the brands we represent to bring new solutions for the ever-changing needs of the commercial kitchen."
The Hamilton Beach 908's polycarbonate blending jug has a 1.25 litre capacity. The blender has a footprint of 165mm wide by 203mm deep and is 387mm high. Features include a two-speed option, durable stainless steel blades, sure-grip feet and a removable filler cap. The 25% discount is available throughout July.
View the Hamilton Beach Commercial 908 bar blender.