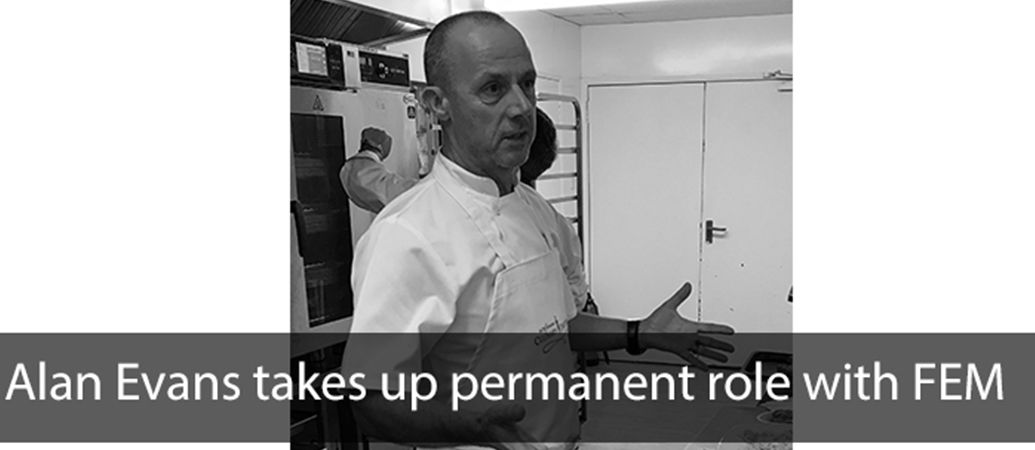 Company News

Megan Nesbitt
29th March 2019
Top chef and 'brilliant communicator' joins the team
One of the UK foodservice industry's most experienced and recognised demonstration chefs has joined FEM as Corporate Development Chef.
Alan Evans, who has worked with leading manufacturers such as Rational, METOS, Electrolux and BGL Reiber, as well as major dealers including Vision and Airedale, had been doing freelance work for FEM but has now joined FEM on a permanent part-time basis.
"Alan brings a different dynamic to the team," says Mark Hogan, commercial director of FEM. "He has incredible knowledge and expertise, and he understands the kitchen from the operator's point of view. Plus, he's a top chef in his own right, and a brilliant communicator. We're delighted that he's agreed to come on board."
Before working for the supply side of the industry, Alan worked as a chef in hotels, restaurants and hospitals. Twenty years ago he started doing some demonstrations for a manufacturer, "Next thing I knew I was in Singapore," he says, "and I haven't looked back!"
At FEM Alan's role will be supporting dealers, customers and the in-house sales team, developing the market for brands such as Alto Shaam, Hamilton Beach Commercial, Sirman and Pujadas. "It's a really attractive portfolio of different equipment," he says. "It's especially exciting to be working with the Vector multi cook oven – it's not often you get the chance to be involved with something that's totally different. It's also exciting to be helping a wide range of customers, including dealers, independent operators and the major national chains.
"The team at FEM are a great bunch of people, from the shop floor right to the top, they really care about what they do. I've been freelancing for them for a year or so, and they've made it easy to slot in, so when they suggested a more permanent role I was delighted to accept."