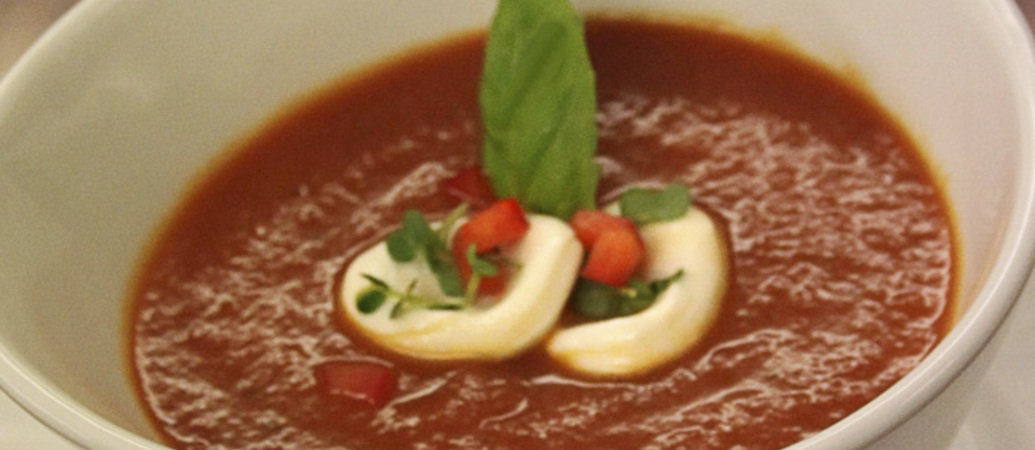 FEM Chef
7th February 2013
Our Executive Chef Dushan Lukovic shares his smoked tomato soup recipe
Use this recipe to create a customer favourite with a twist
This recipe was created by chance on a Sunday in September. I had ordered more tomatoes than I needed as I thought that because it was still warm outside my customers would have salads, but they did not so I had 8kg of juicy plum tomatoes to use. I tasted one with a bit of coarse salt, cheddar and rye bread. Now that was nice! The delicious taste inspired me to use the tomatoes to create an alternative tomato soup so I fired up my Alto-Shaam Smoker Oven and got going. An hour later I opened the oven and a sweet, smoky flavour filled the kitchen. Use this recipe to create the perfect smoked tomato soup.
Ingredients Equipment
Plum tomatoes Alto-Shaam 767 SK/III Smoker Oven
Chicken or veg stock Sirman Vortex Stick Blender
Onions Vollrath Induction Hob
Garlic
Fresh thyme
Brown sugar
Coarse salt
Black pepper
Bocconcini mozzarella
Basil
1) Soak the oak wood chip in water and in the meantime chop garlic, onions and fresh thyme.
2) Cut only the tip off the tomatoes, discard and season tomatoes with salt. Lay them on a perforated tray with another tray underneath to collect the juices.
3) Pre-set the Alto-Shaam Smoker Oven to smoke lightly for 15 minutes.
4) When the oven is hot (after around 40 minutes) drain the woodchip, fill in the smoke box and slide it on to the hot probes at the bottom of the oven. Put the tomatoes in, press start and off we go! The tomatoes are smoking.
5) When the tomatoes are smoked, take them out of the oven and peel them by turning them upside down and pulling the skin off.
6) Warm up the oil in 20 seconds on the Vollrath Induction Hob, fry onions and garlic (garlic last). When the onions are translucent add smoked tomatoes, stock, juices, brown sugar, thyme, bring to the boil and simmer for 20 minutes.
7) Rrrrrrrrr! Blitz all the ingredients using a Sirman Vortex Stick Blender to turn the smoked tomato pulp fiction into the most delicious tomato soup.
8) Serve with mozzarella bocconcini, fresh basil and a thick slice of focaccia bread.
Bon Appetite!
View the Alto-Shaam Smoker Oven 767 SK/III
View range of Vollrath Induction Hobs