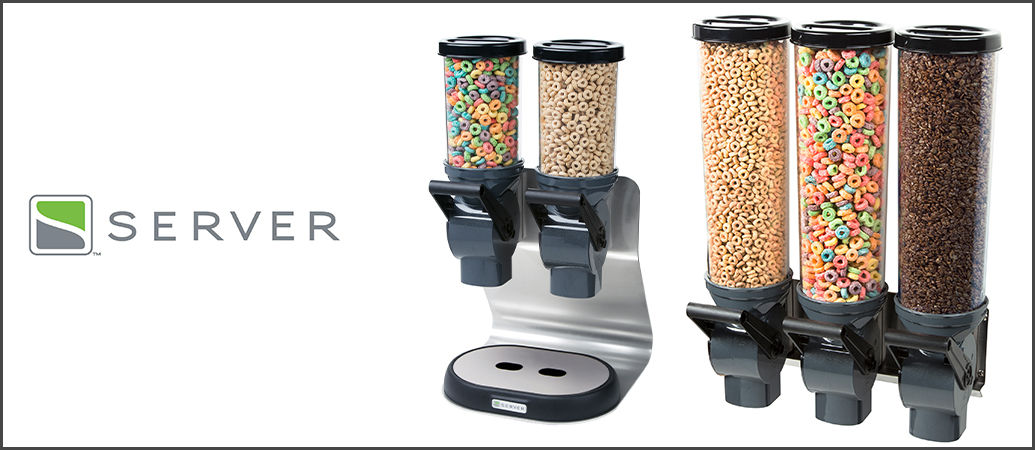 Product News

Megan Nesbitt
22nd May 2019
Breakfast is served!
FEM introduces easy serve, no waste CerealServ Dispenser
FEM now supplies Server's Model DFD-C CerealServ Dispensers, which are compatible with a range of popular dried cereals and provide the perfect solution for adding a fresh dimension to a buffet breakfast. With a sleek, stylish design they are able to fit into any décor. They also offer an environmentally-friendly approach to cereal storage by reducing packaging compared to using individual portion packs, and their precise portioning keeps cost under control.
CerealServ Dispensers are ideal for self-serving in front of house operations of all shapes and sizes, offering versatility with both countertop and wallmount options available. The range of eight models consists of units with either double or triple dispensers. Four of the CerealServ Dispensers have tall 3 litre hoppers, which can hold approximately 46 servings, the other four models have short 1.5 litre hoppers, providing storage for 23 portions.
Countertop CerealServ Dispensers are supported by a stainless steel stand and feature a built-in crumb catcher, which ensures no spillage onto the counter, reducing debris and dust. The most compact option, the Short Double Countertop, has two dispensers, providing a combined 46 servings, and covers a footprint of 508mm x 267mm x 398mm. The largest model, the Tall Triple Countertop has storage for 138 portions.
Wallmount models make it simple to save valuable counter space, while not reducing storage capacity. They are securely fastened with a mounting bracket, which is able to support even the largest unit in the range, the Tall Triple Wall-Mount, which when empty weighs 4.5kg.
Serving is consistent as the ADA compliant dispensers provide uniform 62.3g portion sizes. Their user-friendly dispensing method doesn't require a wrist-twisting motion, and can be performed one handed. Once a dispenser is empty, cleaning is easy: the dispenser simply slides out of its mounting.