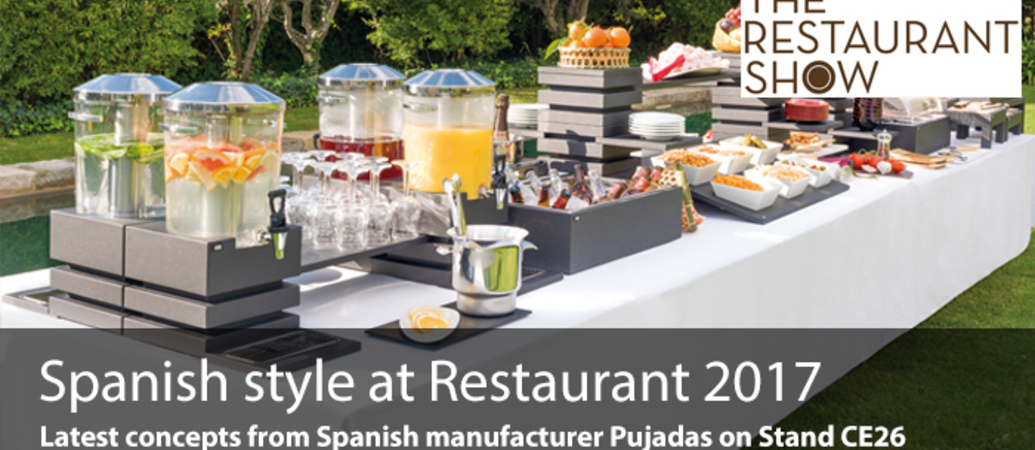 Company News

Stacey Archibald
8th August 2017
FEM shows latest concepts from Spanish manufacturer Pujadas

Stand CE26, Restaurant Show 2017, Catering Equipment Expo, October 2-4, Olympia London

An award-winning buffet display concept takes centre stage on the FEM stand, CE26, at Restaurant Show 2017. The Cubic range is manufactured by Pujadas, one of Spain's leading catering equipment brands. It combines stylish modules that can be linked together to create striking displays. Cubic completely won over the delegates at CESA's Light Equipment and Tableware Forum this year, bagging the 2017 Best Product Award.
When it comes to displays, caterers are looking for eye-catching equipment that makes the most of the space available and is flexible enough to adapt to changes in menu, settings and demand. Cubic can be built up and changed easily. The range includes stackable cubes that operators can arrange in multiple combinations, plus supporting shelves, in a range of lengths, depths, and presentation kits to cater for a range of purposes.
Also on stand CE26 is a selection from Pujadas's cookware range, including frying pans and the Inox Pro series. Inox Pro features top quality stainless steel saucepans, sauté pans, sauce pots, casseroles and stock pots, all manufactured using 18/10 stainless steel. Induction ready, with a sandwich bottom constructed of stainless steel – aluminium – stainless steel, the cookware is flexible as it can also be used for gas, vitro and electric cooking.
Two of Pujadas's frying pans are highlighted on stand CE26, both induction ready. The top of the range Excalibur stainless steel frying pan features the 'latest generation' non-stick technology, which makes it resistant to the effects of the most aggressive kitchen utensils. Meanwhile the Aluminium induction frying pan has a multi-layer, non-stick coating that's long-lasting and offers a high resistance to abrasion.
For more information and details of local stockists visit stand CE26 in the Catering Equipment Expo section of the Restaurant Show.