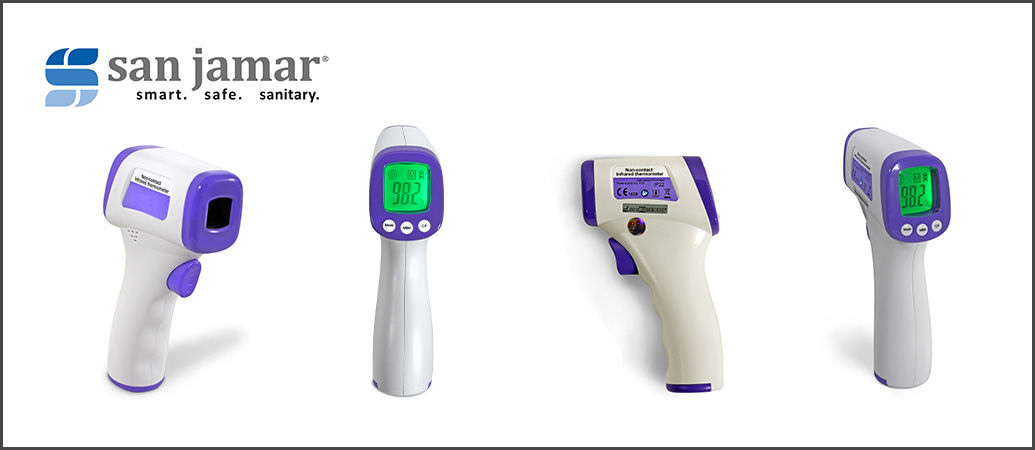 Product News

Mark Hogan CFSP
22nd April 2020
Ensure Customer & Staff Safety with New Non-contact Thermometer
The San Jamar Non-contact Thermometer helps identify staff at risk of fever quickly and safely.
FEM is now supplying the non-contact infrared forehead thermometer from San Jamar. It's an ideal solution for businesses and organisations looking for a simple, safe method of identifying at-risk members of staff.
The thermometer is a handheld unit that uses a highly accurate patented infrared sensor probe which measures heat radiation emitted by the forehead from a 5-8cm range. Designed for ease of use, taking a reading is controlled via a single button. The result is displayed on a large, easy to read LCD screen along with either a green, yellow or red light corresponding to normal, elevated and high temperature.
Furthermore, if the temperature measured is above a certain threshold an integrated alarm sounds. The three elements of alarm, coloured lights and the display provide an immediate and clear indication of a potential fever.
"The San Jamar thermometer will allow businesses to take actions to protect their staff and customers, based on accurate and reliable information," says Mark Hogan, commercial director of FEM. "The importance of maintaining a hygienic and safe working environment is one of the highest priorities for the foodservice and catering sectors, even more so during the pandemic. The San Jamar forehead thermometer is a simple, robust and accurate method of quickly identifying staff members at risk of fever. "
The San Jamar THDG986 infrared forehead thermometer is available from FEM distributors and has a list price of £180.
For more information and details of local stockists call us on 01355 244111 or email sales@fem.co.uk