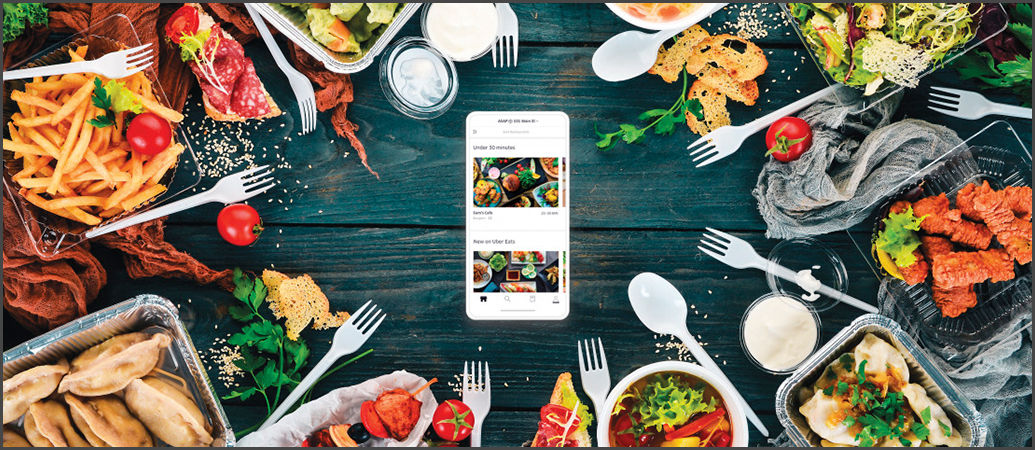 Sector News
Sophie Scott
19th March 2020
Expand Food Delivery to Respond to Consumer Demand
Are you ready to expand your takeaway and home delivery operations? With Cambro and Vollrath delivery products, kit your business up for success.
You may be sick of hearing about it – but the coronavirus is hitting the restaurant and foodservice industry as a whole hard, and it is not going away any time soon. Recent reports are telling us people are avoiding dining out, with bookings down by up to 50 per cent. Many restaurants are facing a decrease in footfall and last-minute cancellations. So, how can you protect your business amid the pandemic? Well, you're saving grace could be zoning in on the takeaway, home-delivery front to keep up with consumer demand.
Coronavirus has emerged at the worst possible time for the restaurant industry. The impact of Brexit has resulted in labour shortages, while business rates, taxes and food prices are crippling. Now the with the virus, the longer-term impact is continued low footfall, supplier issues and increased food prices on businesses which already operate on incredibly fine margins. With the government now advising people to self-isolate, work from home and to avoid unnecessary social contact - restaurants, bars and coffee shops run the risk of extinction.
Expanding Food Delivery
One mooted saviour could be take-out and home delivery, with couriers, encouraged to leave food at the door and avoid contact. According to a recent Barclaycard survey, takeaway sales have risen by 8.7 per cent since the virus kicked in, and this is expected to continue to increase. Chefs, restaurant and hospitality staff across the UK are taking heightened precautionary measures, such as reinforcing rigorous hygiene procedures and advising staff not to work if experiencing symptoms, many have even temporarily closed their doors.
Not all restaurants offer takeaways or deliveries, but if you are worried about the coronavirus, many places now offer the service via companies such as Just Eat, Deliveroo or Uber Eats. With the UK practically on lockdown and self-isolation – zoning in on the takeaway home delivery front may be a great option for keeping your business in action.
Having the Right Tools to Do the Job
Even if you are not new to the takeaway and home delivery front, your business must have the right products to enable you to keep up with demand.
With the increase in food delivery consumer demand, your restaurant must adapt to keep up and thrive. There are many chances for food safety to be compromised when food is being taken from a restaurant and delivered to the customer. It is important to uphold food safety protocols whether food is being served inside or outside the kitchen. Never has it been more vital for food safety to be a top concern within your operation - this is where our Insulated Transportation Range comes in.
Cambro GoBoxes
Choose the Cam GoBox food transportation range for added ease of transport in delivery, catering, and curbside pickup! Made from an eco-friendly, high-performance foam material that is ideal for caterers and foodservice operators who need convenience and durability. Enjoy more than four hours of safe hot and cold food holding, while the GoBox's fantastic structural strength protects your carefully prepared meals. The range also employs large, deep handles for comfortable and ergonomic lifting. These budget-friendly insulated carriers are also dishwasher safe, CFC-free, and 100% recyclable. Make a Cam GoBox the cornerstone of your catering or delivery operation and lighten the load, with various shapes and sizes to fit your business needs.
Cambro GoBags
Ensure a secure and tasty delivery experience with the Cambro GoBag range of Food Delivery Bags and Pizza Delivery Bags – perfect for those looking to expand their takeaway or delivery service offering. These unbeatable catering bags offer high-density insulation to protect food temperature and quality from kitchen to table. Constructed with heavy-duty, sewn-in straps and a clear ticket pouch, this delivery solution is engineered for savings and safety. Extra strength high-density insulation keeps food hot or cold during holding or delivery, and the breathable material protects food quality by controlling moisture and odours. The easy-open flap also ensures a tight seal during transport. Made of thick, sturdy nylon fabric that is machine washable and stain-resistant. Lightweight and easy to store, but heavy-duty enough to handle heavy loads.
In regards to food safety, it is vital to have delivery bags that are made of with nylon material that makes it easy to clean any food spillages, without this material bags can absorb smells, harbour old liquids and lead to food contamination. Accidents and spillage can happen at any time in a foodservice operation but with the Cambro GoBag range none of that matters. Made of thick, sturdy nylon fabric that is machine washable and stain- resistant, lightweight and easy to store, but heavy-duty enough to handle heavy loads.
Premium Food Delivery Bags
New to the Insulated Transportation range is the Vollrath Premium Delivery Bags that maintain temperature for longer to maximise the quality of the food delivered to your customers. With durable construction for longevity and to protect the contents of the bag, reflective piping, double handles and heavy-duty shoulder straps for driver safety and comfort, and Vinyl liners for fast and easy clean-up.
Extend your delivery range and provide restaurant-quality experiences for your customers at home. With Catering Bags, Pizza Bags, Tower Bags, and even Food Delivery Backpacks, this range allows you to go the extra mile in food delivery.
Ready to expand your takeaway and home delivery operations?
With Cambro and Vollrath delivery products, heat stays in - food is kept safe while still preserving its taste, flavour, texture and appearance – ultimately kitting up your business for takeaway and delivery success.
For more information on prices and stocklists call 01355 244111, or email sales@fem.co.uk