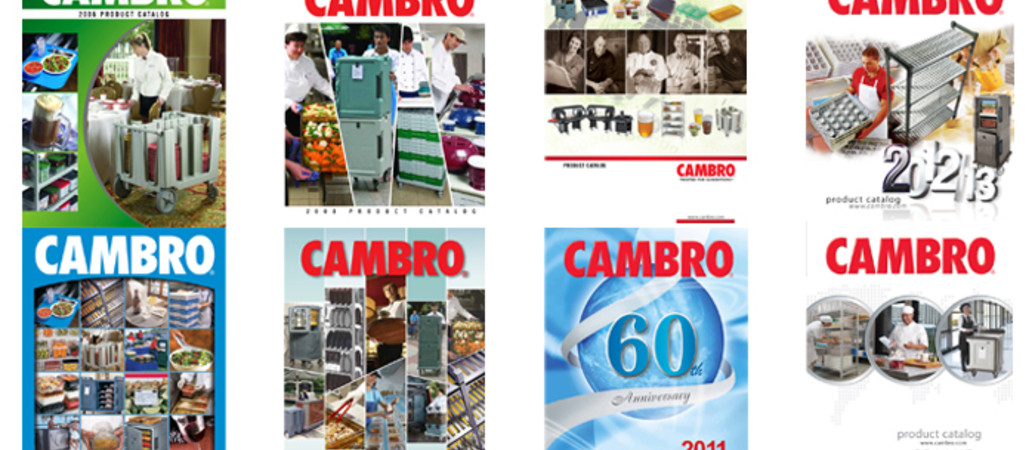 Company News

Stacey Archibald
5th December 2016
FEM and Cambro Celebrate Decade of Partnership Agreement
Since 1993, FEM, based in East Kilbride, near Glasgow has been supplying foodservice products, from kitchen utensils to cooking equipment to distributors. In 2006, FEM entered into a partnership agreement with Cambro - a Company FEM still represents today; to become the master distributor for Cambro products in the UK and Ireland.
FEM credits much of it's success the the Company's ability to form long-term relations. We take a look at the Cambro catalgoue covers as well as some of the key events, products and how the brand has developed over the years...
2006
Cambro and FEM established a partnership agreement and FEM is still the master distributor for Cambro products in the UK and Ireland 10 years later.
2007
Cambro expanded warewashing range. View our full warewashing range including Camracks, Service Carts and Dish Caddies.
2008
Cambro expanded its foodservice offerings to healthcare operators with the addition of Cambro Healthcare division.



2009
Launch of the UPCH800, double electrical CamCart ideal for food transportation of up to 12 x 1/1 GN D65mm. View Cambro's range of Electric Pan Carriers.
2010
Cambro Elements Series is launched - the first ever composite shelving. View the CamShelving range.
2011
Cambro celebrates 60th Anniversary - having come a long way from when the Company launched with just 1 product offering, the Camtray in 1951.
2012/13
Cambro opened its doors to the new Cambro European Service Centre located in Germany
Launch of Cambro Basics Shelving
2014/15
Our FEM Sales Managers visit Cambro in California. The team met with Cambro sales leaders from around the world and it was a great opportunity to get into the theme of the sales meeting which was 'Share the Vision' as they met new people, shared ideas and experiences. Other attendees were from all over the world.
The 2014/15 catalogue saw the expansion of the Shelving ranges with the launch of the Security Cage for Camshelving and the introduction of new widths to the Basics range.
2016/17
FEM and Cambro launch new 2016 catalgoues on the Cambro stand at Hotelympia in London. Cambro announed a whole host of new products including the EEP Lighweight Cam GoBoxes and the Allergen-Free Food Storage range, launched into the UK market by FEM.
We continue to work closely with Cambro, selling Cambro products to distributors and dealers throughout the UK and Ireland.

FEM Receive Prestigious Award from Cambro
FEM were presented with the prestigious Cambro 'President's International
Award' in 2015 at the NAFEM Show.