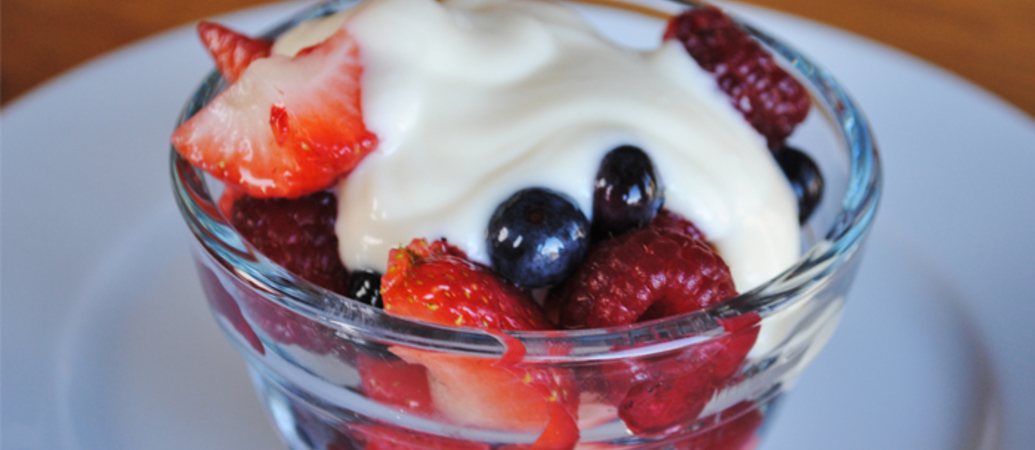 Stacey Archibald
8th June 2015
Walking in to spring, with strawberries, berries and fruits just coming in to season - it's time for ices, parfait and natural yogurt.
Utilise your cook and hold oven, I used them as bread proofers in the past, setting my parfait, cooked crème Brule, now I use them to make my own yogurt.
Love tzatziki , tarator salad, raita's with refreshing yogurt after a curry or a mixed grill, but I love, more than anything just natural yogurt with honey and fresh fruits, whether I make pulp out of berries and mix it with yogurt or just pour the yogurt over fresh or candied fruits, topped up with toasted almonds.
It's my favourite breakfast and lunch dessert too. Chefs, utilise your Shaams, make the most out of them, and just think a daily menu board that states "Fresh Fruit Pulp with Homemade Greek Yogurt" or "Homemade Fruit Yoghurt over Berries, Topped with Toasted Almonds and Ground Nuts" will definitely attract customers.
Here we go!
Ingredients
5 lit. full fat milk
½ lit. best Greek yoghurt on the market
For the pulp
Fresh strawberries
Icing sugar optional
Honey
Toasted nuts
Equipment
Alto Shaam Cook and Hold Oven
Gastronome pans 65mm deep
Hamilton Beach Blender or Stick Blender
To Prepare
Preparation Time: 45 min - 8-12 hours overnight for your yogurt to set
Pre heat the oven to 145C
Once ready place the milk in a gastronome pan, attach the probe to the pan ensuring it's not touching the pan's metal surface and place it in the Shaam.
The milk should reach 112C to max 114C in about 20-30 min
Once the temperature is reached, add 2 heaped table spoons of good plain Greek yogurt per litre of milk.
Once added, stir the whole milk –yogurt mix with a spatula, to spread the yogurt around evenly.
Whilst you add the milk leave the oven door open to cool it down a bit and ensure all vents are closed.
Pre-set the oven to hold at 62C
Place back in the oven on hold at 62C, leave overnight for 8hrs to 12hrs
In the morning
Cool - don't blast chill, remove with slotted spatula any excess liquid, serve it plain or mix in fresh fruit or berry pulp, the choice is yours, drizzle light Acacia honey and toasted almonds.
I enjoy it more than strawberries and cream during Wimbledon matches, choice is yours.
Hope it puts a smile on your face.