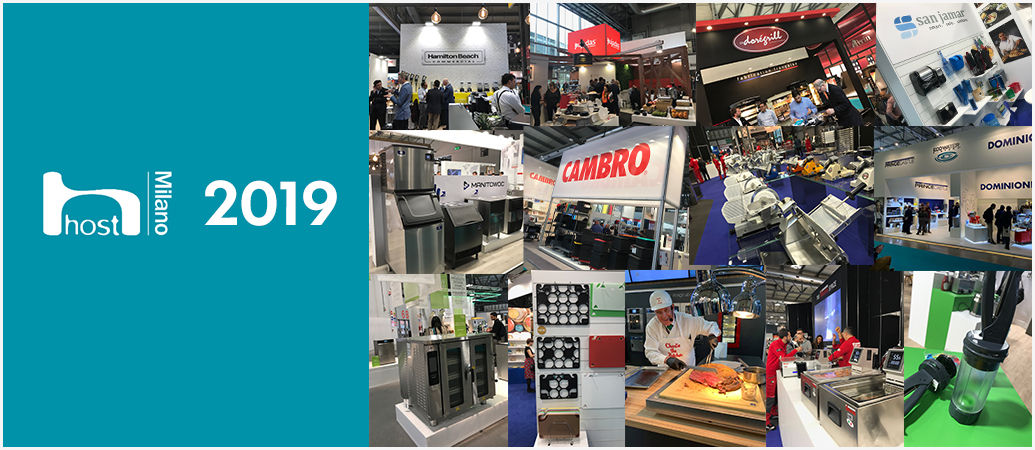 Sector News
Sophie Scott
23rd October 2019
Host 2019: FEM Brand Highlights
The world-leading catering and hospitality trade show opened its doors for its 41st edition – and it did not disappoint. With product launches to award wins, the 2019 edition proved a successful affair for FEM brands.
With state-of-the-art machinery, innovative solutions and a record-breaking number of exhibitors, the HostMilano 2019 event schedule was busier than ever before with national and international competitions, cooking demonstrations, and an insight into the hot topics and products hitting the marketplace.
Alto-Shaam showcased the latest version of the Vector® H Series Multi-Cook ovens at the show, featuring a new design, advanced user-friendly interface, and the ability to customise each oven with colours to match a customer's desired front-of-house experience. The new ovens feature Alto-Shaam's most advanced control yet, with an intentionally simple design that requires little operator training.
The all-new Vector® H Series and its capabilities did not go unrecognised with Alto-Shaam picking up the Smart Label 2019 Host Innovation Award. The team were also joined by Charlie of Charlie the Butcher's Restaurants in Milan, who served up some tasty treats throughout the 5-day show.
Cambro the world's foremost manufacturer of plastic foodservice products, launched a range of new products and innovations at the world-leading event including; a beverage delivery adapter for Cam GoBoxes™, a folding addition to the GoBag™ range, and the dual temperature Pro Cart Ultra.
The all-new High Heat Measuring Cup from Cambro was also showcased. Made from heat-tolerant plastic, these cups can withstand temperatures up to 190°C, truly standing the heat of a commercial kitchen.
Doregrill, designer and manufacturer of rotisserie ovens since 1963, were also at Host, displaying their beautifully hand-crafted ovens.
FEM's resident Chef, Alan Evans, joined Hamilton Beach Commercial throughout Host with live product demonstrations. Product launches included the new compact, durable and versatile 8 Quart Stand Mixer, plus the latest models in high-performance blenders and vacuum packers.
Manitowoc Ice was also in attendance with their range of ice making solutions that are engineered for ease, the display included the latest model of ice machine, the Indigo NXT Series which offers next level simplicity and sanitation.
Whilst Prince Castle were on hand to showcase their extensive new range of toasters, contact grills and hot holding bins throughout Host 2019.
With food safety in the spotlight, Sam Jamar showcased their innovative product lines, such as; the Modular Condiment Organiser range, QuadGrip™ Cutting Boards, and the impressive range of Safe Food Preparation and Ice Handling tools on offer for smarter, safer and more sanitary kitchens.
Server launched the all-new ProPortion™ handheld dispenser, designed to help businesses control food cost and waste. The team were on hand with product demonstrations and solutions to food holding and dispensing challenges.
Sirman the global manufacturer of high-quality food preparation equipment displayed their impressive range of products throughout the 5-day show, including slicers, pizza ovens, sous vide and more. The latest model within the Sirman pizza oven range, the Lipari which is capable of cooking up to eight 12" pizzas simultaneously was also launched at Host.
Despite their busy show schedule Sirman also hosted their 50th Anniversary Dinner during the Host event, which FEM representatives attended.
Last but not least, it was a busy one for Pujadas and Vollrath who showcased their exceptional range of cookware, utensils, display ware and trolleys.
As a trade fair, HostMilano knows no bounds, providing FEM brands with an unmissable opportunity to showcase innovative new solutions to the catering and hospitality world and to learn of future trends. We already can't wait to see what's in store the 2021 edition!
For more information and details of local stockists call FEM on +44 (0) 1355 244111, email sales@fem.co.uk or visit www.fem.co.uk