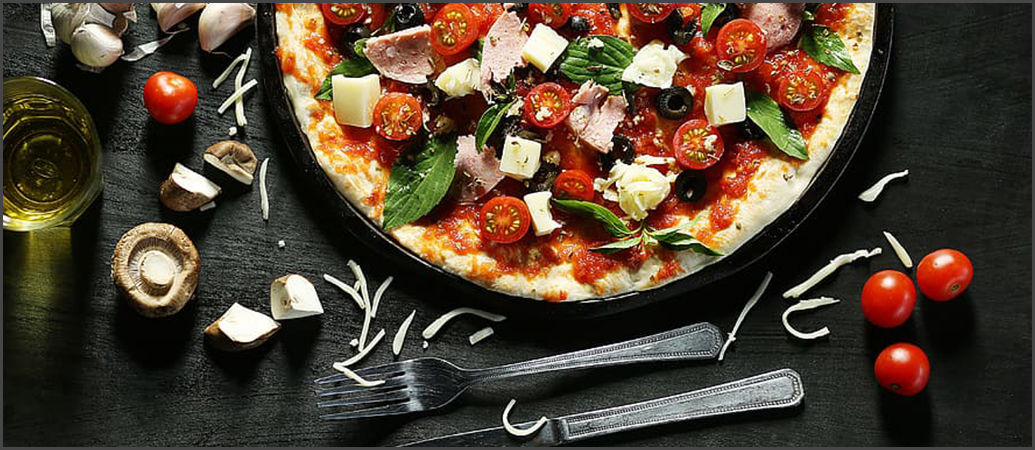 Thought Pieces
Sophie Scott
7th February 2020
How are you Preparing for National Pizza Day?
National Pizza Day 2020 is just around the corner, are you prepared?
National Pizza Day is Sunday, February 9, 2020, and we are already drooling at the idea of gooey cheese, tart tomato and a crisp crust. Whether your customers are dining out, ordering a delivery, or picking up a carryout, ensure your business is equipped with the best pizza equipment, and offering the best deals to attract new and existing customers.
Choosing the Right Equipment
Although you can easily make pizzas in a convection oven or combi oven, the most popular appliance in a food service operation today is to use a dedicated commercial pizza oven, one which combines the power, capacity and functionality you need.
The benefit - they are compact and fit in any kitchen. This means operators can maximise kitchen space. For example, pizza deck ovens are ideally suited to those who do not have space or budget for a wood-fired pizza oven, but still want to output delicious pizzas with a more authentic taste.
Authenticity is vital when it comes to pizza! Traditionally pizzas were stone baked in wood-fired ovens, but with developments in technology, market-leading electric pizza ovens are now able to reproduce the true pizza taste in any kitchen set-up.
The Perfect Pizza Oven for You
The Sirman Lipari Electric Pizza Oven is constructed from stainless steel and has both an aluminium-plated cooking chamber and a stone baking deck to give pizza an authentic texture and taste. The panoramic glass door also means that pizzas can be monitored without letting valuable heat out, and allows you to create an attractive front-of-house experience. The Twin-Deck Lipari model allows for the cooking of up to eight 12" pizzas simultaneously, without diminishing kitchen space.
If you are looking for an even more compact model, the Sirman Stromboli 2 Pizza Oven could be just what you're looking for. With the ability to cook up to four 9" pizzas, the compact design ensures it can be positioned where it's most needed. Each deck is independently controlled, so during quieter hours, you can use a single oven to reduce operating costs.
But What about Delivery?
Don't worry, we have you covered! Expand your delivery capabilities with Cambro Pizza Delivery GoBags. Available in sizes that hold two to 10-pizza boxes, there is a Cambro Pizza Delivery GoBag that will fit your operation, maximising efficiency and storage space for restaurants of any size. Constructed from sturdy 900-denier polyester fabric, Cambro pizza bags are durable and secure, offering top tier protection. All bags are machine washable and stain resistant, meaning they are built to last. Furthermore, pizza bags allow you to take your branding to the next level with personalisation available for each bag with your brand logos.
Employ a Cambro Pizza Bag to change your delivery game and ensure hot, fresh meals every time! Find the right pizza bag for you with the Cambro Pizza Delivery GoBag Selector Tool.
Stay Ahead of the Competition!
But it's not all about having the right pizza equipment, what about the customer? What do they want to see?
Maximise your National Pizza Day success and stay ahead of your competitors with money off vouchers or even giving away free pizza!
Offering a tasty pizza experience combined with outstanding customer service is a recipe for success. Smash National Pizza Day 2020 and reap the results!