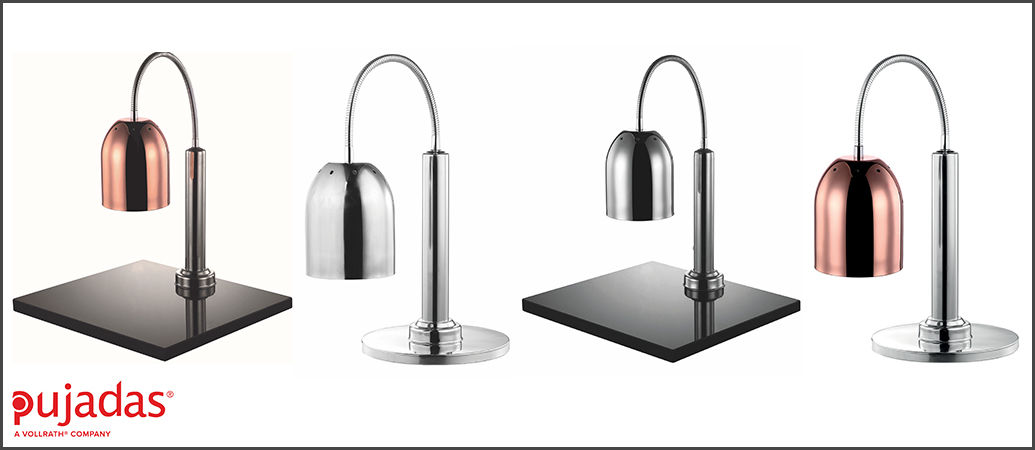 Company News

Megan Nesbitt
9th May 2019
Keeping it hot!
FEM launches new Pujadas heat shades
When hot food is plated and waiting to be served, or in a buffet display, it's important to ensure that it's kept at the optimum temperature, but that it doesn't dry out. FEM is launching new stylish and modern heat shades from Pujadas. They look elegant whilst making sure food stays hot and in excellent condition.
The new heat shades allow food to be kept warm without congealing, so that when it is presented to the customer it is still in perfect condition.
The Pujadas heat shades can be used in a variety of situations, such as self-serve, counter-serve or in holding stations in restaurants, gastro pubs and similar dining outlets.
The heat shades are available in several styles and shapes including the classic cylindrical dome as well as a more flared shape, which gives a wider heat spread. All the heat shades come in a variety of stainless steel, and copper finishes. The pendant shades have an extended flex of up to 180cms, which allows them to be lifted and lowered as required, adjusting the desired temperature required. They have a simple on/off switch so can be easily turned off to save energy.
The free-standing Pujadas heat lamps are mounted on a marble or steel base and have a flexible head. These come in two colour finishes, copper and steel, both with a rounded shade. The marble mounted shades are 500mm x 450mm x 650mm while the steel based ones are 600mm x 240mm.
"These new lamps provide caterers with a safe and flexible way of keeping food and sauces hot and in perfect condition for customers. They look great too!" says Mark Hogan, commercial director of FEM.