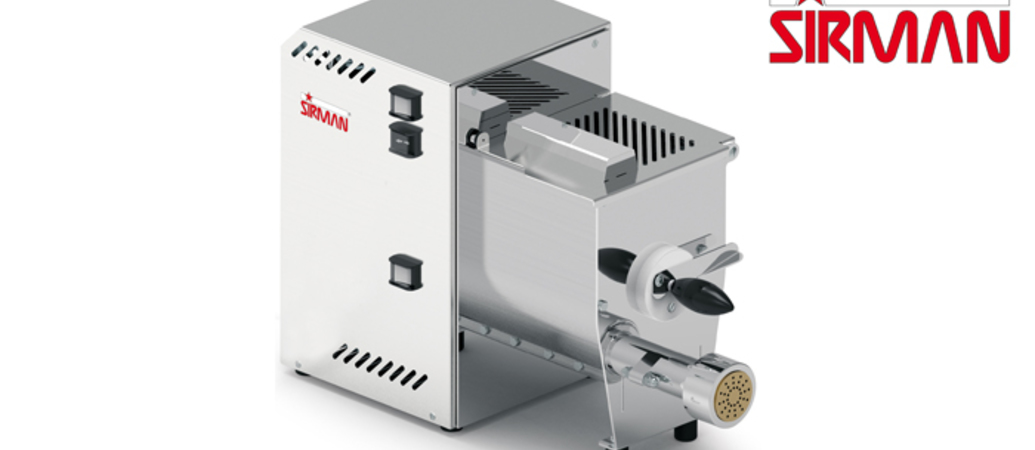 Product News

Stacey Archibald
5th December 2016
New Sirman Sinfonia 2 Pasta Machine
With freshly produced food ever popular, pasta made on the premises not only draws in customers, but also commands a premium price. Plus, it tastes better, too!
Our new Sirman Sinfonia 2 pasta machine enables small to medium-sized restaurants to branch out and introduce fresh pasta to their menus.
The Sinfonia 2 is a low-cost, light-duty machine which quickly and easily makes fresh pasta from scratch. It's capable of producing 5kg of pasta per hour. The convenient, removable funnel allows operators to add liquid ingredients during processing so that they are thoroughly combined. The high-performance kneading paddle is easy to remove for cleaning.
The Sinfonia 2 pasta machine is constructed from robust stainless steel AISI 304 with a stainless steel worm, head and ring. The bowl, made of anodised aluminium, has a 6 litre capacity and 2.5kg dough capacity. The powerful, air-cooled 0.5hp motor with oil bath gear box reducer ensures the machine has a long service life and can withstand heavy demand.
The Sirman Sinfonia 2 pasta machine is available with one die of the chef's choice – choose between spaghetti, linguine, tagliatelle, macaroni and fusilli. Other dies and an optional variable speed pasta cutter are also available from FEM.
The Sirman Sinfonia 2 pasta machine measures 577mm (w) x 263mm (d) x 489mm (h).