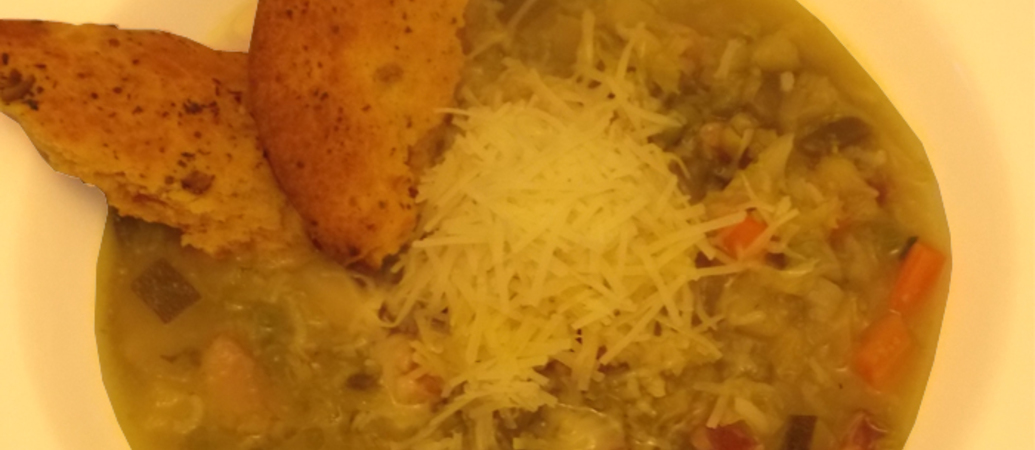 Spring has arrived and brought fresh vegetables with it - the perfect excuse to try out Chef Dushan's Milanese style minestrone soup
Fresh flavours
I love the spring and all the greens it brings with it. It gives us the opportunity to enjoy fresh vegetables and herbs whether you get them at the market, your garden or just foraging the field. I love all of the peppery, mild earthy flavours and feel really good after every spoon. I have been making this Milanese for many years and I use the greens available. If I make it too early I bulk it up with few brunoises of roasted root vegetables. Otherwise I use this Old Italian traditional recipe from 'Cucchiaio d'Argente' - first published in 1950 and then expanded and redesigned in 1997. 'Silver Spoon' is one of my Italian cookery bibles and now I'll share it with you.

Equipment & Utensils
Vollrath Induction Hob
Vollrath Tribute Sauce Pan
Vollrath Ladle
San Jamar Cutting Board
Vollrath High Temp Spatula
Positive spirit!
Ingredients (Serves 8-10)
100g of lardons (look for smoked belly)
1 whole garlic (peeled and chopped)
1 large onion
A handful of flat parsley sprig (roughly chopped)
3 celery sticks
5 tomatoes (peeled, seeded and diced)
4 courgettes (cut in small cubes)
4 carrots (cut in small cubes)
2 large potatoes (cut in small cubes)
5 tablespoons of olive oil
300g shelled peas
1 medium savoy cabbage (shredded)
200g fresh shelled borlotti beans
150gr long grain rice
6 large sage leaves (chopped)
10 basil leaves (chopped)
Salt/pepper
Parmesan cheese (freshly grated to serve)
METHOD
1) If you haven't bought the lardons chopped then chop them first followed by the garlic and onions. On your San Jamar Cutting Board, chop them all together and when the mixture is quite fine add the parsley and celery and chop some more.

2) Cut the rest of the vegetables -tomatoes, potatoes, courgettes and carrots - in uniformed brunoises or approximately ½cm cubes. Have all ingredients handy and ready to go in the pan - this is really simple.

3) In your Vollrath Sauce Pan, add olive oil, lardons, onions, garlic, celery and parsley then quickly fry – stir as you go along. Next, add the rest of vegetables - potatoes, courgettes, tomatoes, carrots and beans. Pour 2.5 litres of water over it, lower the heat on the Induction Hob and simmer for 2 hours.

4) Next, add the peas and cabbage and simmer for 15 minutes stirring occasionally and then add the rice and simmer for another 20 minutes. At the very end stir in the herbs and correct the seasoning.

5) When ready to serve, heat it up and use a Vollrath Ladle to ladle it into to a soup bowl, and add extra parmesan on top. I serve it with home-made rosemary and garlic focaccia bread.

Tip : to make it eclectic green, before you add the peas put half of them into a Hamilton Beach Food Blender then pour hot water in along with ½ a teaspoon of bicarbonate of soda then whizz until smooth! Add to your soup and stir.

Also, without lardons, this recipe is suitable for vegetarians.

This soup is great served hot and you can also serve it cold on a very hot Italian-style summer day!

Hope it puts a smile on your face.