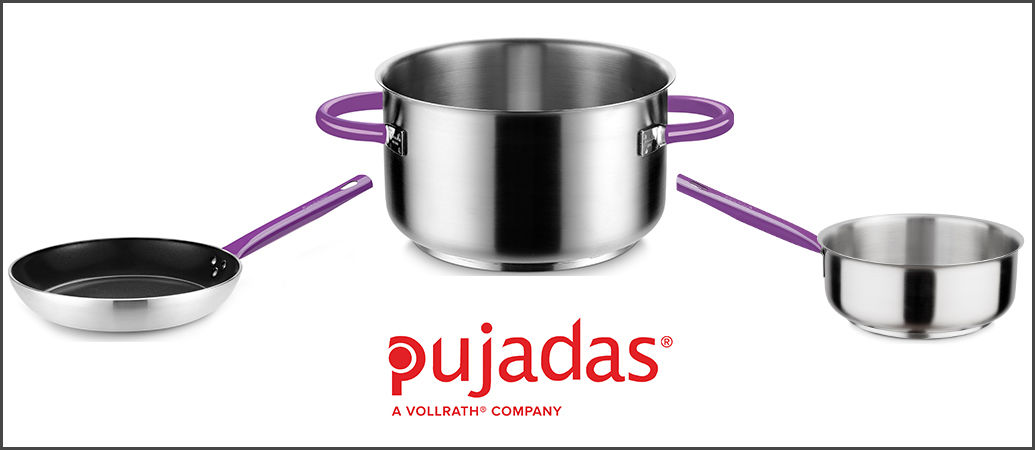 Product News

Megan Nesbitt
22nd May 2019
Allergen-free cookware enhances diners' safety
FEM expands allergen-free range
With the number of people experiencing food allergens on the increase those in the foodservice industry need to be ever vigilant about how food is prepared and cooked. FEM has expanded its range of allergen safety products to include a range of cookware and serving bowls designed specifically to ensure diners can eat without risk of allergens.
All the Pujadas stainless steel allergen-free cookware has distinctive purple handles to differentiate it from general cookware and is made from stainless steel especially designed to avoid cross contamination of allergens.
The range includes a non-stick frying pan available in three sizes 200, 240 and 280mm, a sauce pot in 6.2 or 15 litre capacity, a casserole in 4.2 and 10 litre capacity and a generous 3 litre saucepan. There are matching lids with purple handles available separately in corresponding sizes.
For table servings or display purposes FEM can now offer attractive double-walled serving bowls from Vollrath, which maintain the food temperature whether hot or cold. These are made from heavy gauge stainless steel and coloured purple on the outside so there is no chance of mix-ups when serving allergen-free food. Available in either square or round versions there enhance presentation while ensuring customer safety.
Both shapes cover five sizes, the square bowls from 139 x 139 x 70mm to 299 x 299 x 150mm and the round bowls from 144 x 76mm to 350 x 175mm.
FEM has produced a new allergen safety products brochure for 2019 detailing its complete allergen-free range from prep utensils from San Jamar and storage boxes from Cambro to the Pujadas cookware and Vollrath serving bowls.