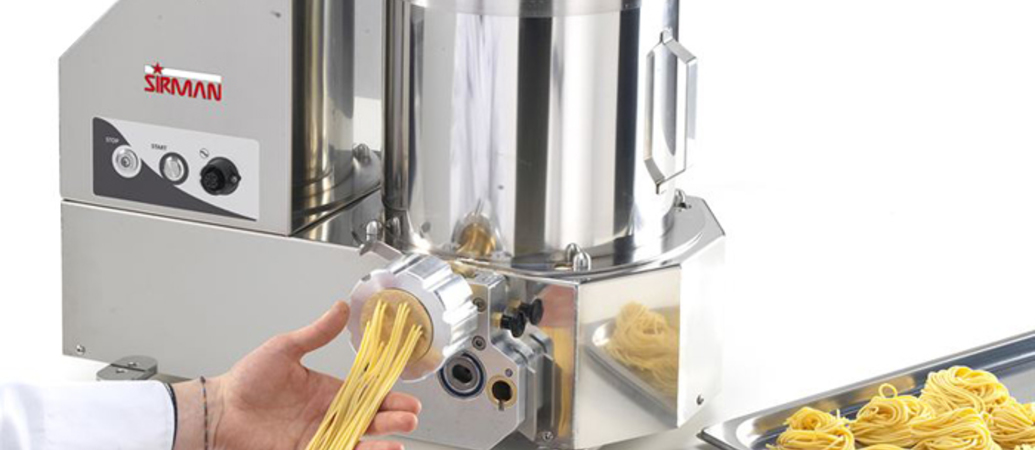 Sector News

Stacey Archibald
15th September 2014
Pasta Making Made Easy with Sirman SIRpasta Machine
Offering pasta made in-house provides a point of difference on menus, tastes much better than dried or bought-in pasta and commands a premium price. To enable venues to quickly and easily produce a range of fresh pasta from scratch, we have launched the Sirman SIRpasta machine.
The Sirman SIRpasta machine has a planetary spiral mixer which makes light work of combining the pasta dough ingredients. The mixer bowl has a capacity of 20 litres, capable of holding 4kg of dough. The top feeder tube allows egg to be added gradually, during mixing, to ensure the ingredients are thoroughly combined and the dough is the desired consistency.
Push button operation and easily removable components mean the SIRpasta machine is simple to use and to clean. It measures just 450mm (w) x 406mm (d) x 66mm (h), which makes it ideal for countertop use.
The machine comes with a pasta cutter and a choice of 75mm bronze die. Each die is capable of producing perfectly formed pasta shapes, such as spaghetti, linguini, tagliatelle or penne. A 0.75 HP motor enables the machine to produce up to 16kg of pasta per hour.
Other accessories are available to increase the versatility of the SIRpasta machine, such as an automatic sheeter, a tagliatelle maker and a ravioli maker.