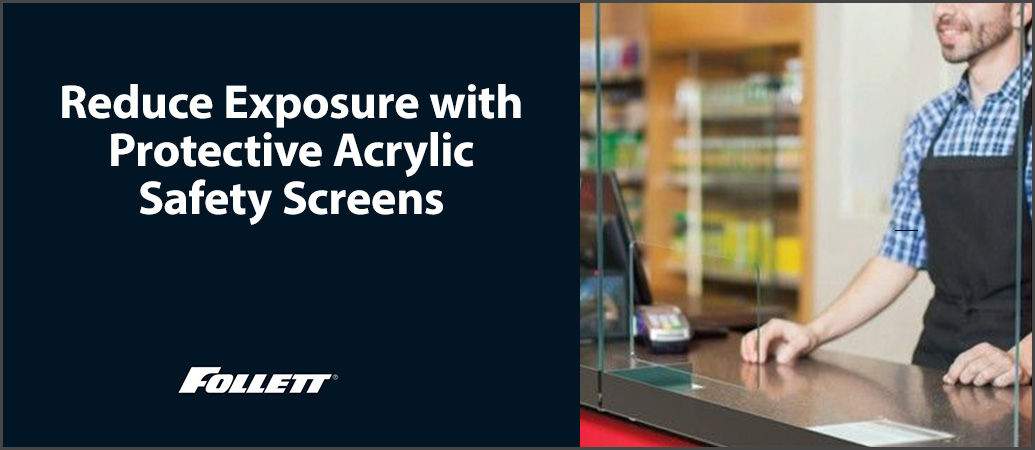 Product News
Sophie Scott
4th May 2020
Protective Sanitary Safety Screens from FEM
Reduce exposure between your employees and customers with FEM's new acrylic safety screens from Follett.
Follett Portable Sanitary Safety Shields offer a highly adaptable and easy to clean protective barrier that limits and reduces exposure between your employees and customers. The range includes both countertop and ceiling mounted solutions to fit your business requirements.
Whether you are looking to manage your food hygiene or your health and safety, businesses have a duty of care to protect employees and customers from the coronavirus.
Our acrylic safety screens offer a perfect solution for businesses of all sizes, and you can tailor the protective screens to suit your specific business needs. Keep customers and staff safe at retail and service counters, and receptions and payment desks during and post the Covid-19 pandemic.
Made from a durable 5mm acrylic, the Countertop, Quick Set and Counter Mount models offer a simple and effective solution to reducing exposure between employees and customers. The screen size and cut-out location are adjustable depending on your business requirements, furthermore, the Counter Mount model can fit the edge of a desk or kiosk. The range also includes a Ceiling Mount variant with a stainless steel top holder and counter brackets to prevent swings.
The coronavirus pandemic has shown the whole world that we need to do more to protect what matters most – human lives. Businesses whether still in operation, currently closed or phasing the reopening of premises, must ensure safety is the top priority!
Protect your front-line employees and customers with our acrylic transparent barriers with a list price starting at £173.
For more information and details of local stockists call us on 01355 244111 or email sales@fem.co.uk