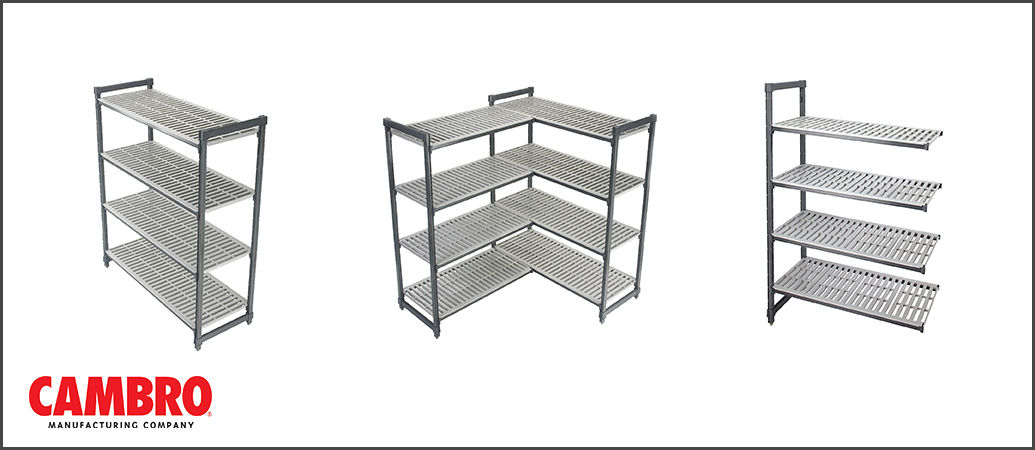 Product News
Sophie Scott
17th January 2020
Solve Your Shelving Challenges with Camshelving Elements
FEM is delighted to be bringing the Camshelving Elements Series to the UK Market! The cost-effective, versatile shelving solution to overcoming your shelving challenges.
In commercial kitchens, cold rooms and dry stores, shelving tends to be a 'fit and forget' decision. Until staff need to clean it and find out it's a hugely complicated job. Or it starts to rust, or it warps, or it gets damaged by corrosive chemicals. Check out our new shelving range from American manufacturer Cambro, the Camshelving Elements Series, which is a cost-effective, versatile shelving solution that overcomes all these problems.
The Elements range is stronger than common wire shelving, so it won't warp. It's made of a robust composite material that is totally rust and corrosion-free – in fact, it's backed by a lifetime guarantee. The shelves are comprised of a series of shelf plates that slot into place and are easy to remove for cleaning, by wiping down or they can be put through a dishwasher. The shelf plates feature Camguard antimicrobial properties that inhibit the growth of harmful bacteria and microbes.
The shelving can withstand constant loading and off-loading of heavy products, and each shelving unit has a weight-bearing capacity of up to 910kg.
As well as being practical, Elements is very versatile in terms of layout and adjustability. The range includes starter units, mobile units, add-on units and corner units allowing a huge variety of configuration, and the shelves come in a choice of widths and depths. In addition, the corner units can be used to create u-shaped shelving systems. This versatility makes it easy to maximise the storage capacity of any walk-in, cold room or dry store.
The Elements Series joins FEM's established Camshelving products, the Premium and Basics ranges. Elements is lighter and has a lower price point than the Premium range, and is more robust and versatile than Basics. Like its sister products, Elements is very easy to assemble, without the need for tools.
The smallest Elements basic starter unit, comprising two post kits and four vented shelf kits, has a list price of £230.00. Its shelves are 610mm wide and 460mm deep, while the posts are 1830mm high.
For more information and details of local stockists call FEM on 01355 244111, email sales@fem.co.uk.