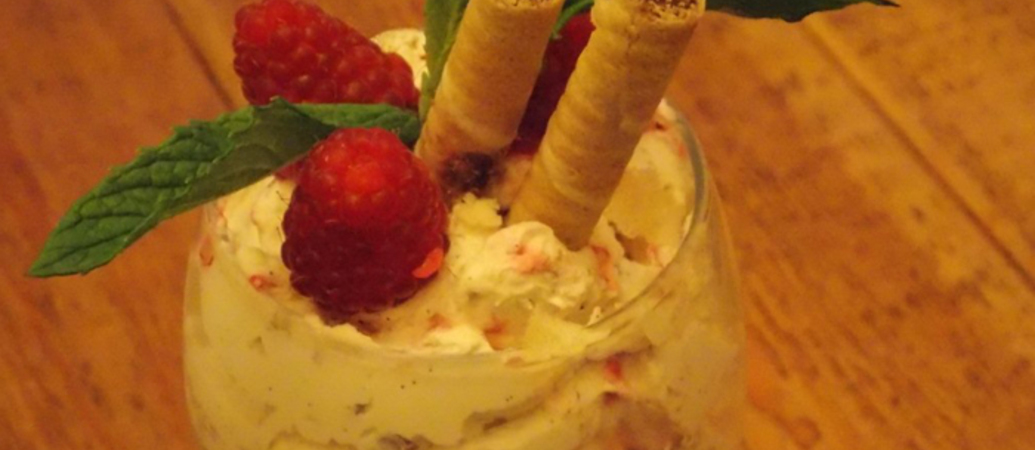 Summer is finally here! Serve this dessert and customers looking for a delicious cool-down will not be disappointed.
Perfect for any occasion
This traditional Scottish dessert recipe was passed on to me by my godmother, Liz McClelland. She used to make them on hot days, and there were plenty of those on her farm in Banket in Zimbabwe. We used to sit on her veranda, sipping spritzer and enjoying Cranachan, reminiscing about the good old days. It's really easy to put together. The combination of fresh fruit, toasted oats, cream, fromage frais, vanilla pods, makes this dessert perfect for any occasion, from Sunday lunch to a wedding breakfast.

Ingredients (Serves 10)
12 tbs porridge oats
350ml whipping cream
350gr fromage frais
6tbs clear honey
10 tbs good Scotch whisky
900 grams raspberries
2 vanilla pods (optional)
Equipment
Vollrath Planetary Mixer
Sirman Salamander Grill
Vollrath Spatula

1) Pre-heat your salamander or grill. Pour oats in a non-stick pan and add 8 tablespoons of whisky. Toast under the grill until golden brown. Stir every few minutes to toast them well, and let all the whisky evaporate. Oats should be golden brown and crunchy and whisky sweet when ready. Leave to cool for 15 minutes.
2) Pour cream and fromage frais in a mixing bowl, and whip together until thick. Stir in honey and splash or two or three of whisky, and then fold in toasted oats.
3) You can now lay up this dessert in two ways:
Option 1: Layer of whipped cream and fromage with oats, then layer of raspberries, then layer of cream, then, then ,then until you have packed up the glass! Finish with whole raspberries and a sprinkle of crunchy oats.
Option 2: (My favourite!) Fold some raspberries with cream and fromage with a spatula gently until they break, through the mix. When raspberries break they tint the whole dessert and make it pink, purple colour. I then garnish with whole raspberries.
Some extra tips:
You can use almost any fresh berry or mixture of berries, or just fresh fruit. I used fresh peeled figs (or just the flesh, with white peach cut brunoises) I toasted my oats in amaretto instead of oaked matured whisky.
Serve with ice cream. Fold them in pancakes, or a quenelle with a flourless chocolate cake.
Use honey as a sweetner. Due to its fructose content, it's lower in calories on a weight to weight basis, because it has higher water content.
That's it you are done! Keep it in the fridge until ready to serve. It tastes better the next day.
Smile and enjoy!
View the Vollrath Planetary Mixers
View Sirman Adjustable Salamander Grills