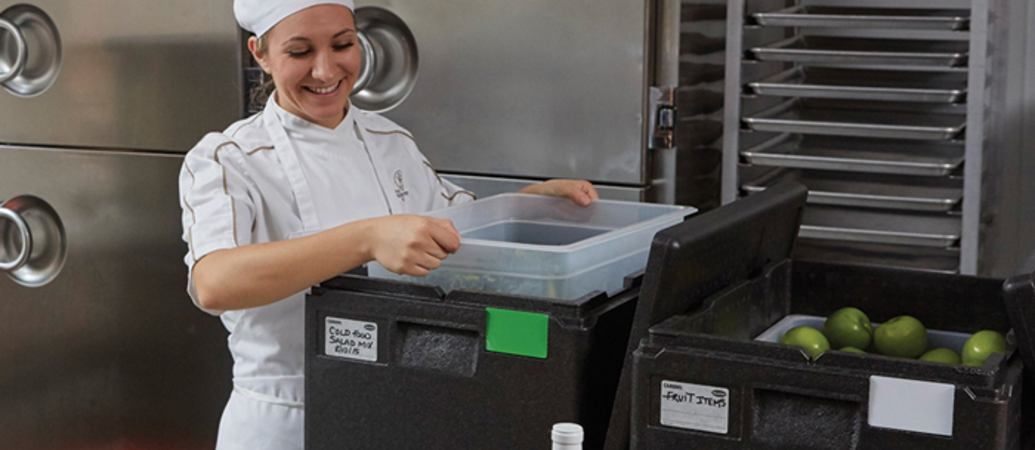 Product News

Stacey Archibald
16th May 2016
Ultra-Light Insulated Food Carriers – Protect Food and Budgets
The new EPP Cam GoBoxes are the latest insulated transporters from Cambro, the specialist supplier of quality plastic equipment for foodservice. Affordable, practical and efficient, the Cam GoBoxes are perfect for operators looking for a food transporting solution that delivers on all areas.
Constructed from EPP (Expanded Polypropylene), an eco-friendly, high performance foam material, the Cam GoBoxes are extremely light-weight. Despite this, they don't compromise on performance.
Cambro's Cam GoBoxes offer superior temperature retention - keeping hot or cold food safely, for many hours, during transit. The boxes are strong and durable enabling them to withstand heavy commercial use. As they are chemically inert, they are unaffected by oil, grease and most chemicals.
The Cam GoBoxes are designed to hold 1/1 GN pans, along with camwarmers or camchillers if extended holding times are required. A built-in label area keeps plastic menu tags in place to aid staff in identifying the contents or required destination.
The boxes are easily loaded and unloaded – an interior wall recess makes it simple for operators to reach-in and remove or load the pans. The boxes' ergonomic handles allow comfortable and safe lifting.
The Top-loading Cam GoBoxes are available with a 35.5 litre capacity, 46 litre capacity or as a 43 litre stackable model. The stackable Cam GoBoxes can be nested inside each other for ease of storage, enabling them to take up 30% less space. The EPP160 Top-Loader is the smallest in the range, measuring 600mm (w) x 400mm (d) x 257mm (h) and being capable of holding 15cm 1/1 GN Pan.
Available in a larger 60L capacity, the Front-loading Cam GoBoxes have durable hings and latches to allow the door to remain securely open allowing full 270° access.

The Cam GoBoxes are dishwasher safe, CFC-free and are 100% recyclable at the end of their service life. Front-loading EPP Cam GoBox™ Carriers are also available.