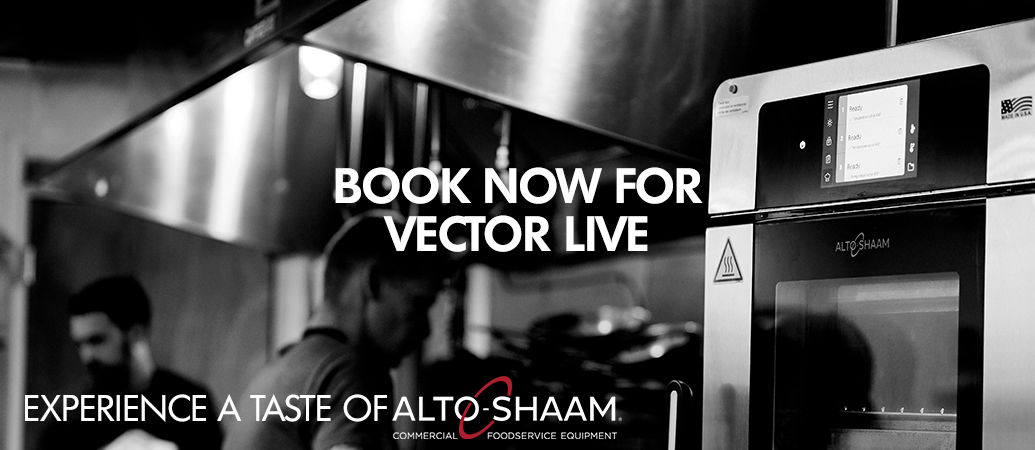 Events
Sophie Scott
4th February 2020
VECTOR Live Coming to a Location Near You!
New dates lined up for Vector Live Demonstrations. Join us and experience 'A taste of Alto-Shaam' . . .
Join FEM as we demonstrate the VECTOR's radical cooking technology with unmatched food production and quality at a location near you. Corporate Development Chef Alan Evans says, "it gives you everything...and a little bit more."
London VECTOR Live Demonstrations will be held in the afternoon of the following dates at Westminster Kingsway College, 2pm to 4.30pm:
Northampton VECTOR Live Demonstrations will be held in the morning of the following dates at Marren HQ, 10am to 12.30pm:
The VECTOR is the only oven that allows simultaneous, high-quality preparation of a wide variety of food. The secret to Vector Multi-Cook Ovens lies in Structured Air Technology®.
Discover this revolution in cooking technology and see the VECTOR multi-cook ovens in action with FEM's VECTOR Live Demonstrations by our Corporate Development Chef, Alan Evans.
When asked of the VECTORs capabilities, he says, "It's innovative, refreshing, and it's a concept that really works. No need for extraction canopy, no water, no waste required, unsupervised cooking, no flavour transfers between chambers, totally programmable… No other oven has four separate temperature zones. It gives you everything, and a little bit more."
The VECTOR has the flexibility to cook different products at the same time, in a compact footprint, with no risk of flavour transfer. With up to four chambers, each is entirely independently controlled, with its own time, temperature and fan settings. The Vector's 'Structured Air Technology' delivers a high velocity, vertical airflow from the bottom and top of each chamber. It produces completely even temperature control, throughout each chamber, and faster cooking results – with no need to rotate or monitor cooking pans.
The vertical airflow has the added benefit that when the door is opened, very little heat escapes. Its ventless operation and the fact that it needs no water connection means a VECTOR oven can be placed virtually anywhere in your business.
There are three models in the VECTOR range, offering a choice of two, three or four cooking chambers. The VECTOR Live events will feature the largest VECTOR multi-cook oven, the four-chamber VMC-H4H model. It has a footprint of just 533mm wide, 993mm deep and 1082mm high, and can take both full and half size GN pans.
For more information and details of local stockists call FEM on 01355 244111 or email marketing@fem.co.uk
In light of current circumstances surrounding the Coronavirus, FEM has cancelled all upcoming Vector Live Dates throughout the UK, until further notice. Please get in touch for more information.