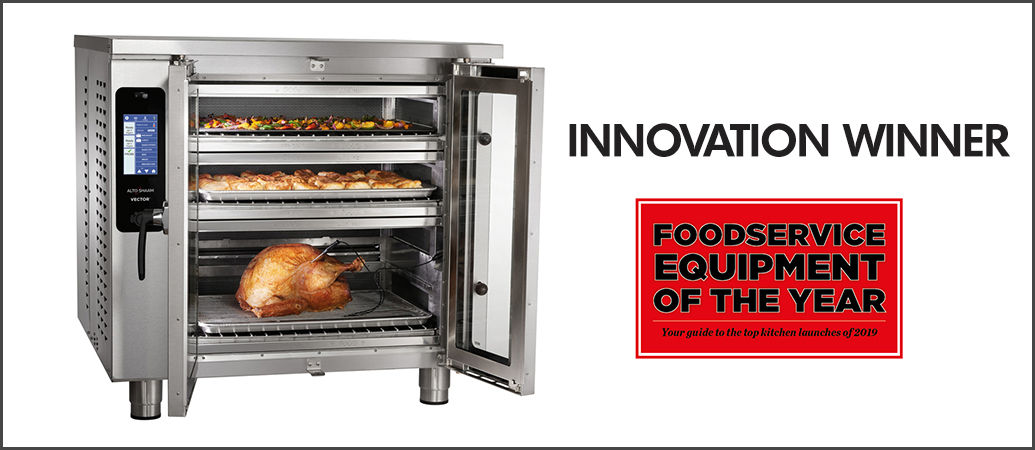 Company News
Sophie Scott
19th December 2019
Vector F-Series Wins FEJ Innovation Award
FEM is delighted to announce that the Vector F-Series Multi Cook Oven has been named as an Innovation Winner in the Foodservice Equipment Journal's Foodservice Equipment of the year 2019.
Earlier this year the FEJ invited the industry to submit nominations for the top equipment rolled out this year in five key categories; Innovation, Energy Efficiency, Design-Led, Functionality, and Value & Usability. Yesterday, it was announced that within the Innovation Category, the Vector F-Series Multi-Cook Oven has been named as a standout item of kitchen equipment unleashed to the UK market this year.
Key Features of the Vector F-Series
The Vector F-Series has the flexibility to cook different products at the same time, in a compact footprint, with no risk of flavour transfer. With up to four chambers, each is entirely independently controlled, with its own time, temperature and fan settings. The Vector's 'Structured Air Technology®' delivers a high velocity, vertical airflow from the bottom and top of each chamber. It produces completely even temperature control, throughout each chamber, and faster cooking results – with no need to rotate or monitor cooking pans.
The vertical airflow has the added benefit that when the door is opened, very little heat escapes. Its ventless operation and the fact that it needs no water connection means a Vector oven can be placed virtually anywhere in your business.
With no possibility of flavour transfer between the chambers, it ideal for cooking special diets such as vegan food at the same time as other food.
There are two models within the F-Series range, offering a choice of either three or four cooking chambers. The model has a wider body and the ability to combine chambers to cook taller items.
One Vector F-Series oven can replace two traditional ovens, optimising your kitchen's square footage and workflow. Compatible with full-size sheet pans or hotel pans, their increased capacity significantly increases throughput, perfect for high-volume, batch cooking.
The Vector in Action
Looking to find out more? Why not come along to one of our Vector Live Demonstrations at a location near you . . .
Discover this revolution in cooking technology and see the Vector in action with FEM's VECTOR Live Demonstrations by our Corporate Development Chef, Alan Evans.
Chef Alan Evans says, "it gives you everything...and a little bit more."
For more information call 01355 244111 or email sales@fem.co.uk