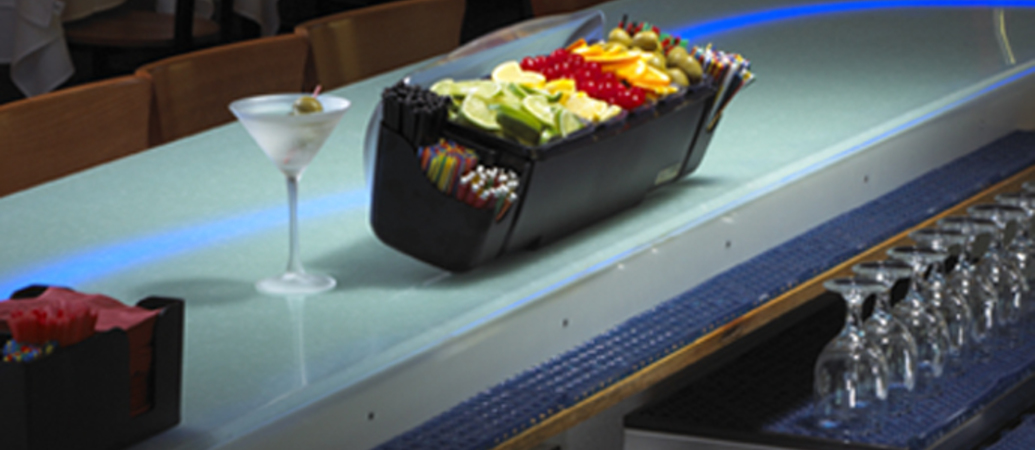 Product News

Mark Hogan CFSP
3rd December 2012
Foodservice Equipment Marketing introduces the San Jamar Dome Garnish Centre
The presentation of drinks is an increasingly important part of the bartender's craft. Garnishes such as sliced lemons, cherries and olives all add value and appeal to the drink. But they need to be fresh, with vibrant colours and good taste.
Foodservice Equipment Marketing has introduced the San Jamar Dome Garnish Centre designed to keep garnishes fresh and free of contamination behind the bar. The domed lid is made of durable, semi-transparent polycarbonate so staff can see at a glance if anything is running low. The deep trays hold a generous amount of garnish and the domed lid allows them to be overfilled.
When serving, the domed lid rotates backwards neatly out of the way. The whole unit is made of durable plastics that won't corrode and are dishwasher, refrigerator and freezer safe. With a footprint of 95mm (d) x 357mm (w), it incorporates stabilising hooks for security and removable carry handles for easy transport.
When in position it's angled towards bar staff to discourage customers from helping themselves. Snap on containers for picks, sticks and straws further increase its storage capacity. It can also be used for condiments, toppings etc for cafes, restaurants and kitchen areas.