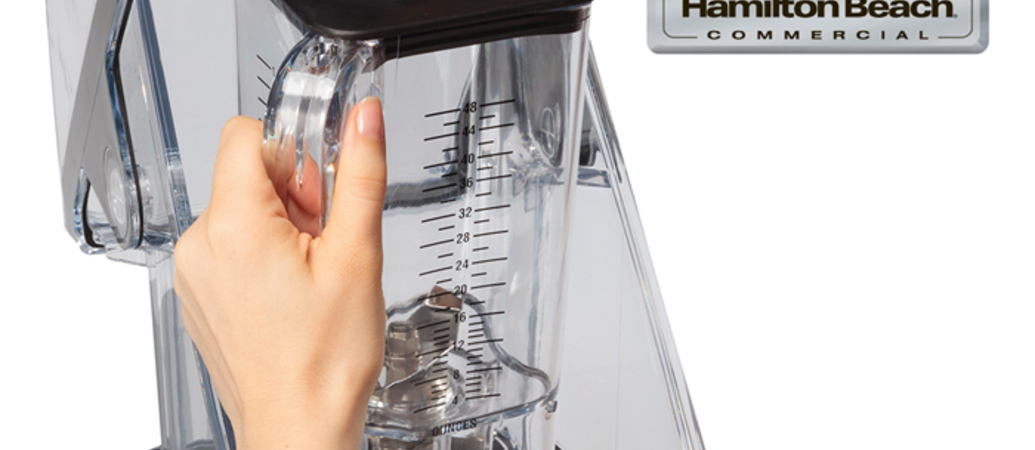 Stacey Archibald
3rd September 2015
A Blender's Bottom Line
When outfitting a new location or upgrading old equipment, a restaurant owner has to choose between saving on the cheap option or investing in tools that will last longer. But which is better for the bottom line?
Ann Marie Blackmon, key account manager for Hamilton Beach Commercial, understands that paying for new equipment is always a struggle: "Everybody's trying to find a way not to buy a blender." The way to make the best decision, she says, is to consider the true cost of ownership. When maintenance costs, repair costs and parts-replacement costs are added up, "this is really what you're paying for their blender." Here's how to calculate that cost of ownership and determine which blender's best.

Features of the most durable blenders
Buyers should first make sure they understand the specific parts and features that affect a blender's durability and cost of ownership.
Clutch drive: A steel clutch drive — the piece that transfers power to the blending jar — lasts longer than plastic. Some companies use plastic clutches and include a spare for replacement.
Venting and fans: Efficient motor cooling reduces the likelihood of the motor overheating.

Container material: Because glass isn't suitable for commercial use, most commercial blender jars are made of polycarbonate or co-polyester plastic. Long-term soaking in sanitizing solution can cause a jar to become brittle and crack, so heavy-duty containers last longer. A replacement jar costs about $60, depending on the manufacturer and model.
Ball bearings: A blender's ball bearings reduce vibration, extending the life of the jar. Two ball bearings deliver maximum performance.
Jar pad sensor: If the jar is absent, or not properly set in place, the motor-drive coupling will grind, potentially voiding the warranty. A jar pad sensor (found on all Hamilton Beach Commercial blenders) stops the motor if the container's not in place.
| | | | |
| --- | --- | --- | --- |
| | Model A | Model B | Model C |
| Purchase Price | £800 | £800 | £900 |
| Container | £60 | £60 | £60 |
| Investment | £860 | £860 | £960 |
| | | | |
| Container Replacement | £60 | £120 | £60 |
| Drive-Socket Replacement | £0 | £0 | £24 |
| Blade Replacement | £0 | £60 | £51 |
| | | | |
| Total Cost | £920 | £1040 | £1095 |
Calculating the true cost of ownership
The sticker price on a blender is only part of the story; durability is what matters in the long run. A model that looks like a good deal up front may cost hundreds in maintenance and replacement parts over its life. This table illustrates the differences between three comparably priced commercial models that require parts to be replaced with varying frequency.
Unlike some competitors, Hamilton Beach includes replacement blades for free, and its stainless-steel clutch drive rarely needs replacing.
Figuring out the real cost (and profit) per blend
Investing in a high-performance blender doesn't make much sense for a restaurant that only serves the occasional milkshake. And skimping on blender power will only cause problems for a location with high drink volume. To get a more accurate picture of what a blender costs — and earns — it's important to calculate the cost per blend.
Multiply the number of blended drinks made in an average day by the number of operating days per year.

Divide the five-year cost of ownership of a blender by the number of blends in that time. That's the cost per blend — and it's likely to be a few pennies or less.

Determine the average menu price of a blended drink and subtract ingredient costs and blend cost to get the average profit per blend.
What to look for in a warranty
If a blender's out of service, that profit vanishes quickly. It goes without saying that warranties are essential for high-quality commercial blenders, but what makes one warranty better than others? Length is the first thing to look at, and it's important to read the fine print. For instance, some blenders offer a three-year warranty — but parts and labour are only covered for the first year. The following years, only parts are covered. Hamilton Beach blenders from FEM are covered by parts and labour back-to-base warranty to ensure stress-free ownership.
This blog was originally published by Hamilton Beach Commercial. For the original post please visti the Hamilton Beach Commerical Blog here.