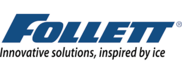 Follett
Since 1948 Follett has been a leader in designing and manufacturing foodservice solutions inspired by ice, creating high-quality products for the healthcare, foodservice, hospitality, and supermarket industries as well as refrigerators for the medical industry.
Foodservice Equipment Marketing (FEM) is the leading distributor of Follett foodservice solutions in the UK and Ireland. The range includes the energy-efficient Flake Ice Machine and Micro-Chewblet Ice Machine with both models featuring an integrated pump that provides operators with a consistent way to dispose of water waste, High Capacity Ice Storage Bins, and Ice Storage and Transport Systems (ITS) with Gravity Dispense Cart Loading. Follett's ice storage products also feature the industry-exclusive SmartGATE® ice shield which controls the flow of ice to reduce spills and limits contact with the ice itself.
We also stock a range of acrylic safety screens which offer a highly adaptable and easy to clean protective barrier that limits and reduces exposure between your employees and customers. These protective sanitary safety shields are available in both countertop and ceiling mounted solutions to fit your business requirements.
Another Follett creation is our mobile hand wash sinks designed for medical facilities, catering operations, waiting areas and customer service offices that allow you to wash your hands with warm water without touching the tap due to its foot-activated water pump. These sinks are much more hygienic than a traditional sink in maintaining a sanitary environment.
Browse our range of leading ice making and foodservice safety solutions from Follett online today.
Play Follett Video