Doregrill MAGFLAM 5 Gas Spit Rotisserie Narrow
Description Gas
Product Capacity 15–20 Chickens/hr
Capacity 5 Spits
Power 34.6kw
W X D X H 1100 x 690 x 1310mm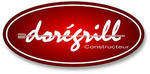 Warranty
1 year
Description
Doregrill MAGFLAM 5 Gas Spit Rotisserie Narrow
Cooking using "Radiating Cast Iron", with high yield "Live Flame" projectors, provides the look of open re cooking.
High-quality stainless steel and enamel construction with refracting blocks and panels that highlight the warm, authentic look of old-time cooking.
Front panel with backlit "Rôtisserie" inscription, two water-proof glass-ceramic lights and silver-plated tap handles.
Heat protection with toughened glass windows, "big red" emergency stop button, glass door handles insulated, and hinges fitted with an "open window" locking system.
The interior can be fully dismantled, and the inside corners are rounded.
Direct and guided spit insertion on high-powered independent motors with adjustable depth settings.
Spring-mounted motor concealment panels (to stop fat from entering the housing), plus lower fat tray with drainage faucet.