Doregrill MAG Electric 4 Spit Rotisserie
Description Electric
Product Capacity 24 - 28 Chickens/ hr
Capacity 4 Spits
Power 19.5kw
W X D X H 1480 x 690 x 1130mm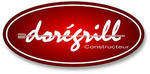 Warranty
1 year parts & labour
Description
Doregrill MAG Electric 4 Spit Rotisserie
Direct and guided spit insertion on independent motors with adjustable depth settings.
Toughened glass heat protection and hinges with an "open window" locking system.
Presented in glazed enamel or stainless steel, high-power lighting protected by water-tight glass-ceramic panels, backlit laser cut "Rôtisserie" inscription and silver-plated tap handles.
The interior can be fully dismantled, and the inside corners are rounded.
Thermostat temperature control 20-300°C.
Comes with a cable reel.